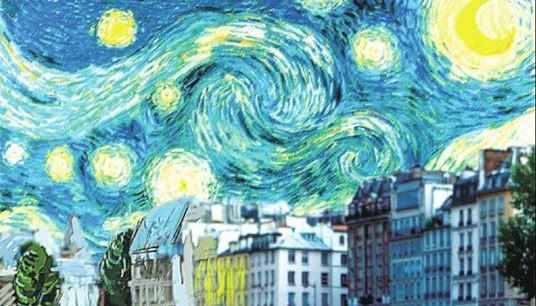 The teaser poster for Woody Allen's latest European vacation project,
Midnight in Paris
, has arrived and it steals from the best. Although the reference material, Vincent Van Gogh's iconic 1889 painting "
The Starry Night
," is less than inspired, it's a beautiful, evocative poster.
I've had a feeling since the first time I read about the fully formed project that this might be one of Woody's keepers. It's been a few years (and a few duds) since his last, Vicky Cristina Barcelona, and a long time since a certified Grade-A classic (for me, that's 1989's Crimes and Misdemeanors, followed by 1987's criminally under-rated Radio Days).
I don't really know what the plot is (I'm guessing a breezy romance romp), but the film is composed of some of the nicest, warmest, most charming actors on the planet: Kathy Bates (ok, so sometimes she's a psychopath, ala Misery, but what about About Schmidt?), Rachel McAdams (Ms. Bay Breeze from Red Eye), Michael Sheen (the unloveable Brit from 30 Rock) and Owen Wilson (goofy in everything). Adrien Brody and Marion Cotillard are admittedly pretty aloof screen presences, but you need to balance all the golden sunshine, don't you?
And, finally, the title had me sold from the get-go. Full of mystery of cosmopolitan hijinx.
Check out the full poster at
Awards Daily
, who are apparently not so high on the starry night theme.