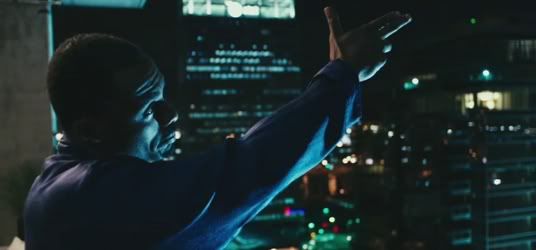 Lately, I've been playing catch up with some of the "meh" movies that I skipped last year. It's a common thing this time of year, when the most interesting Oscar bait has already been seen and the new releases include such gems as Justin Bieber: Never Say Never and Big Mommas: Like Father, Like Son. Because there's nothing funnier than a family of cross-dressers and a 13-year-old documenting his life story.
One such leftover is Takers, which is actually a pretty cool flick. And not just because of the familiar blue and orange color scheme and the Rat Pack fedoras. Of course, the PG-13 rating means some pretty awkward tip-toeing around sensitive topics, such as drug addiction, and bloodless gun battles. The script is a little daft, too, with logic very often thrown to the wind.
I'm honestly not sure what else he has to do to get his own action series, a la Jason Statham's Transporter. So far, he's played post-apocalyptic nanny (28 Weeks Later), put up with biblical mumbo jumbo (The Reaping), occupied the same room as Denzel Washington for 30 seconds (American Gangster) and played a character named "Mumbles" (RocknRolla). At least he got to play it cool with crazy Beyonce and crazy Ali Larter in the "meh" Obsessed.
Is there no justice in the world? How is Stringer Bell not kicking ass and pulling in seven figures?
In Takers, he's not asked do a whole lot except be cool. And he has cool to spare. Even being surrounded by a decidedly uncool crew, including wife beater Chris Brown, Sinatra wannabe Hayden Christensen and shifty-eyed Michael Ealy, doesn't diminish it. Gunplay doesn't faze him. Neither does explosions. Or *spoiler* a backstabbing T.I. Not even a heist-foiling, drug addict sister (Without a Trace's Marianne Jean-Baptiste) throws him off his game.
Hollywood, you're on notice. Idris Elba needs a Steve McQueen-quality film, sans the poser entourage. Pronto.