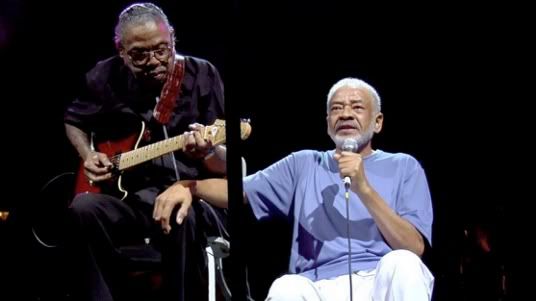 As a documentary,
Still Bill
is problematic at best, but as a catching-up with one of the best soul singers of the early '70s, the film (newly available on
Netflix Instant
) is golden. After a series of classic songs that crossed over into the mainstream ("Ain't No Sunshine," "Lean on Me," "Use Me") and prior to some latter-day cult hits ("Grandma's Hands" via Blackstreet's "No Diggity" and "Who Is He and What Is He to You" via
Jackie Brown
), Bill Withers bowed out of the music industry in 1985. He's held onto the mystique of the homegrown hit-maker ever since, never once capitalizing on the nostalgia he's left behind.
Not once during the course of
Still Bill
does Withers question his decision to leave the spotlight and focus on his family. He comes across as a down-to-earth guy, the kind of person that most people aspire to be. He's comfortable in his own skin, remaining cool in what must've been an incredibly awkward interview with
Cornel West
and
Tavis Smiley
. The two self-important jackasses ask him about "selling out." "We're all entrepreneurs," Withers responds, not taking their all-too-obvious bait.
Despite the documentary's heavy-handed attempts at easy emotion, you get a sense for the life Withers has lived and the events that shaped his outlook. He grew up in a West Virginia coal town and struggled with a stutter until he was in his 20's. It wasn't until he was 32 that he broke through as a musician. Without any professional training, he was an unlikely star and his fame brought some ridiculous propositions — one producer suggested he cover Elvis Presley's hokey "
In the Ghetto
."
Withers transcends the pat generalizations that his documentarians foist upon him at every turn. After the "selling out" crap, Withers side-steps more bunk about racism and still more B.S. about career regrets. Amid all the preconceived notions directors Damani Baker and Alex Vlack seem to have, Withers comes out with some gems of wisdom. "Do you know how unhappy you'd be if you thought you weren't (living) the right way?" He says early in the film. "I started out that way; I'm not going to end that way." Later, he says he told his children that on their way to wonderful, they'll pass through all right. "Stop and take a look around," he says. "Because that's where you may be staying." There's also some genuine emotion, such as moments where he joins his daughter in song and talks with young stutterers about his own childhood.
It's a shame Withers never continued churning out solid gold soul, and that he was saddled with a couple nincompoops for this latter-day documentary, but he isn't fazed. This film is worth a watch to see how cool cool really can be.